My Inspiration for My Life's Work & Purpose, Farrah...


Here is a brief account of my family's experiences of coping and living with autism for the past 19 years, since Farrah's diagnosis of Autism Spectrum Disorder...and those who inspired and continue to inspire me...
The gift of a Prayer from a dear friend at the time Farrah was in hospital with the fever and unknown virus which would change our world...
'O my Lord! O my Lord!
I am a child of tender years.
Nourish me from the breast of Thy mercy,
Train me in the bosom of Thy love,
educate me in the school of Thy guidance and
develop me under the shadow of Thy bounty.
Deliver me from the darkness, make me a brilliant light;
free me from unhappiness, make me a flower of the rose garden;
suffer me to become a servant of Thy threshold
and confer upon me the disposition and nature of the righteous;
make me a cause of bounty to the human world
and crown my head with the diadem of eternal life.
Verily, Thou art the Powerful, the Mighty, the Seer, the hearer.'
(Abdu'l-baha, The Baha'i Faith)
I believe the Greatest Gift:
'I believe the greatest gift I can concieve of having from anyone is
to be seen by them,
heard by them,
to be understood and touched by them.
The greatest gift I can give is
to, see, hear, understand and to touch another person.
When this is done,
I feel contact has been made.'
(Virginia Satir: Making Contact, 1976)
...Farrah was diagnosed in 1998 at the age of two with Autistic Spectrum Disorder. Back then very little was understood about autism or how to help individuals diagnosed with it. My husband and I were sent away with a sheet of contact details and left to get on with it...She had all the signs of classic autism; no language, hand flapping, rocking, no eye contact, repetitive restricted behaviours, did not play appropriately with toys; just lining them up; even my ornaments placed around the living room ended up in a line on the sideboard most days!

After a while, when I returned from the shock and devastation to the reality that there appeared to be no-one who could advise us or help us, I realised I had to do something. I started to research the best I could without today's internet technology! I attended a Donna William's conference in about 1998, having read her book 'Nobody Nowhere,' and I remember thinking if Donna can stand on a stage with all the sensory overload that she describes she is experiencing, in a hotel ballroom with glittering chandeliers and having had no help from her mother to be who she is today, my Farrah has a chance to achieve that too because I am going to do everything I can to help her be the best she can be, whatever that is going to be for her!...Donna was my first inspiration. Thank you Donna you gave me the hope I needed and the aspirations I needed to move forward and towards the world of possibilities...

By the time Farrah started school she had experienced nearly every intervention known at that time in some form or another and during that time I had stayed and participated with her throughout each and every one of them to learn whatever I could about why and how it was thought it would help her.
I use all the techniques and strategies I learned from the therapies every day, in our home and at all the activity environments we attended and incorporate them in to our everyday life as and when I was communicating, interacting and disciplining Farrah.

Yes, I say 'disciplining'...a child with autism needs to know their boundaries as much as, if not more in fact, than a child without autism. Also, as a parent, my personal feelings were that it was not fair to allow Farrah to do something her older brother, who was two years older than her, was not allowed to do.
Farrah started school
just as she turned four years old as her birthday falls in the school summer holidays. She had had a full week of interventions and therapies prior to starting school, many of which continued once she was at school. Unfortunately, our local mainstream infant school knew just as much about autism as we know now about life on mars!

Needless to say, it was a very difficult, stressful and upsetting time for all concerned. Subsequently, after trying to include Farrah for two years part-time at our local mainstream school, as they wouldn't let her attend full-time and even threatened to exclude her part-time if I made a fuss about her right to be in education full-time at age 5, we moved her to an autism resource base (ARB) which was attached to a mainstream school for the remainder of the 'part-time' hours.....it was a difficult decision as we wanted her to be in our local community for school, feel she belonged, be with her brother and mix with local children...
This turned out to be the best decision I made for her education and when she was due to move to the juniors of the mainstream school, rather than go through everything again with a new Head Teacher and SENCO; I decided enough was enough and sent her to the ARB full-time. There, she was understood and was helped to communicate, interact and play appropriately with the other children. I soon realised how much more important this was for her and that the academics could be taught once the behavioural and sensory issues, caused by the autism, were being managed and she was able to absorb the teaching and learn.

Farrah still had very limited language at age seven and the school used Makaton, Picture Exchange Communication System (PECS) and TEACCH in the classrooms of six children with a teacher and two learning support assistants (LSAs). It was amazing and such a BIG relief! Yes, like many parents I have spoken to since, we had concerns about Farrah possibly regressing and copying other children's autism related and other types of behaviours in a special school for children with autism, and on occasions she did, as did the other children copy hers, I am sure! BUT the teachers and support assistants knew which behaviours were copied from other children and which ones were Farrah's AND they intervened in a specialist way to stop ALL the children from copying each others inappropriate or unhelpful behaviours and encouraged them to use the skill of copying for what was helpful and enabling for them to communicate,interact and behave in more appropriate and sociably understandable ways. They taught the children how to cope with the sensory and communicating issues the behaviours were trying to express and this enabled them further to concentrate on what they needed to in order for them to learn...

Farrah thrived in the ARB and by the time she left at age eleven had achieved just as good SATs (Statutory Achievement Test) results, and some even better, as some of the children in the mainstream school in Maths, English and Science, much to our delight! She was talking and interacting, being included in the mainstream school for some lessons and even took herself off to a mainstream maths lesson after morning break one day!...

THE FIVE FREEDOMS
'The freedom to see and hear what is instead of
what should be, was, or will be.
The freedom to say and feel what one thinks,
instead of what one should.
The freedom to feel what one feels, instead of
what one ought.
The freedom to ask for what one wants, instead of
always waiting for permission.
The freedom to take risks in one's own behalf, instead of
choosing to be only "secure" and not rocking the boat.'
(Virginia Satir, 1976: Making Contact)
Following Primary School, Farrah went to a new purpose built centre for children with ASD which was attached to a mainstream secondary school. Farrah also did well there and left with Entry Level exams in English, Maths, Science, ICT, Food Studies, Child Care and a BTEC Level 2 in Dance...she had been attending a dance school and had learned freestyle disco and street dance so, she had been included in the mainstream secondary school in the BTEC Level 2 Dance Class and had the relevant support for the written part of the exam...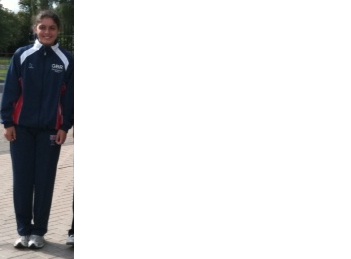 Trampolining
Another 'intervention,' and I use the word loosely here, as it was not Rebound Therapy, was Trampolining which was taking place in another hall in the same building where my son was learning Karate. My daughter was about six years old and I thought she should 'have a go' because I read it was 'good' for children with autism for their spatial awareness and it helps reduce toe walking, which she also did. This can cause problems with the achilles tendon tightening and it becoming difficult for the child to place their heel down on the floor to walk properly.
Trampolining became a sport Farrah loved, has continued and is now giving her the opportunity to compete nationally for her Country as a member of Team GB!

One day her coach suggested she should take part in the disability trampoline competitions as he rated her chances of doing well in them. It just so happened that when he spoke to the British Gymnastics disability Trampoline Coach, there was a Team GB squad trial taking place on the immediate following weekend and he asked if we would be prepared to take her three hours drive way to trial!

Of course, this was an opportunity we felt she could not miss and she wanted to go so, we got up really early on the morning and drove her there. This was in 2010 for the 2011 Team GB squad and she qualified for the development team which she was thrilled about and needless to say we were very excited and proud of her.

The following year she trialled she moved in to the performance squad of Team GB for 2012. Each year she competes in the British Championship's qualification Competitions and this has now been the route to qualify for Team GB as well. She is currently in the 2014 Team GB Performance Squad.
Farrah exhibited her A Level Photography at 'The Old Fire Station Cafe' in Central Bristol in October 2014...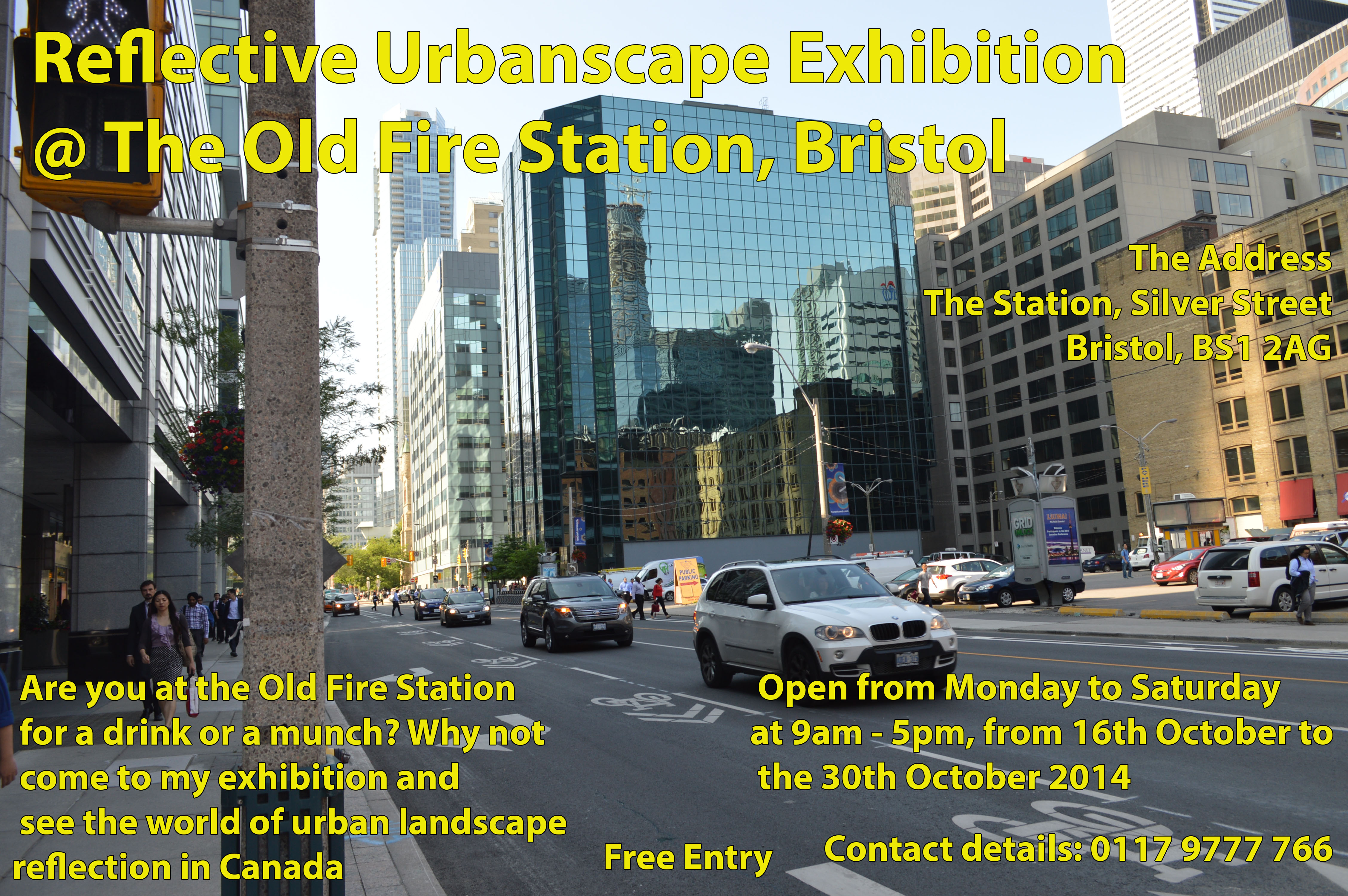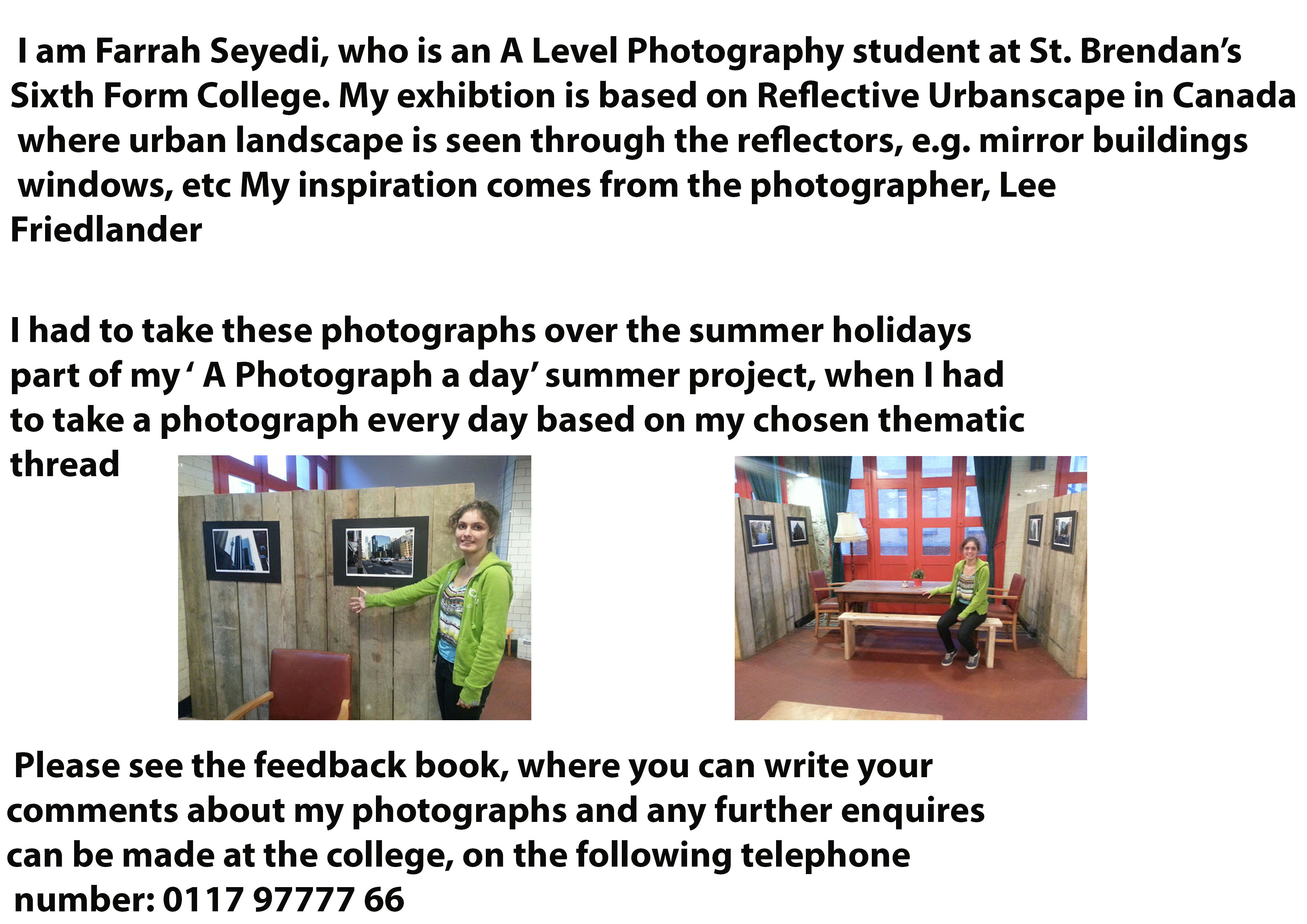 This is an extremely long way, 17 years, from where this brief recollection of our daughter's journey through autism started and Isincerely hope it gives you hope, inspiration and understanding that with the right education, guidance, support, opportunities and trying different strategies and techniques to find which ones work best for your child, he/she can reach their full potential, whatever that is and means for them. No two children are the same without a diagnosis of any condition, disorder, disease or impairment and it is the same for children with a diagnosis of autism... you just have to find the best way to get in to their world and help them, step by step, to venture in to and cope in ours AND allow them to go back to theirs when they need a break...

and now I can help you do this...

This is a photo of Farrah dancing at a competition in the UK, where the disco music is deafening and she dances a complicated routine competing with other dancers who are on the dance floor at the same time. When she was at infant school she had such hypersensitive hearing that she could not bear to go in to the assembly hall with all the other children as it was too over-whelming and noisy for her. She would scream, collapse to the floor andhold her hands over her ears! She had sensory integration therapy (SIT) as one of the many therapies to help her overcome and cope with this...

'MY DAUGHTER STILL HAS AUTISM BUT AUTISM NO LONGER HAS HER!'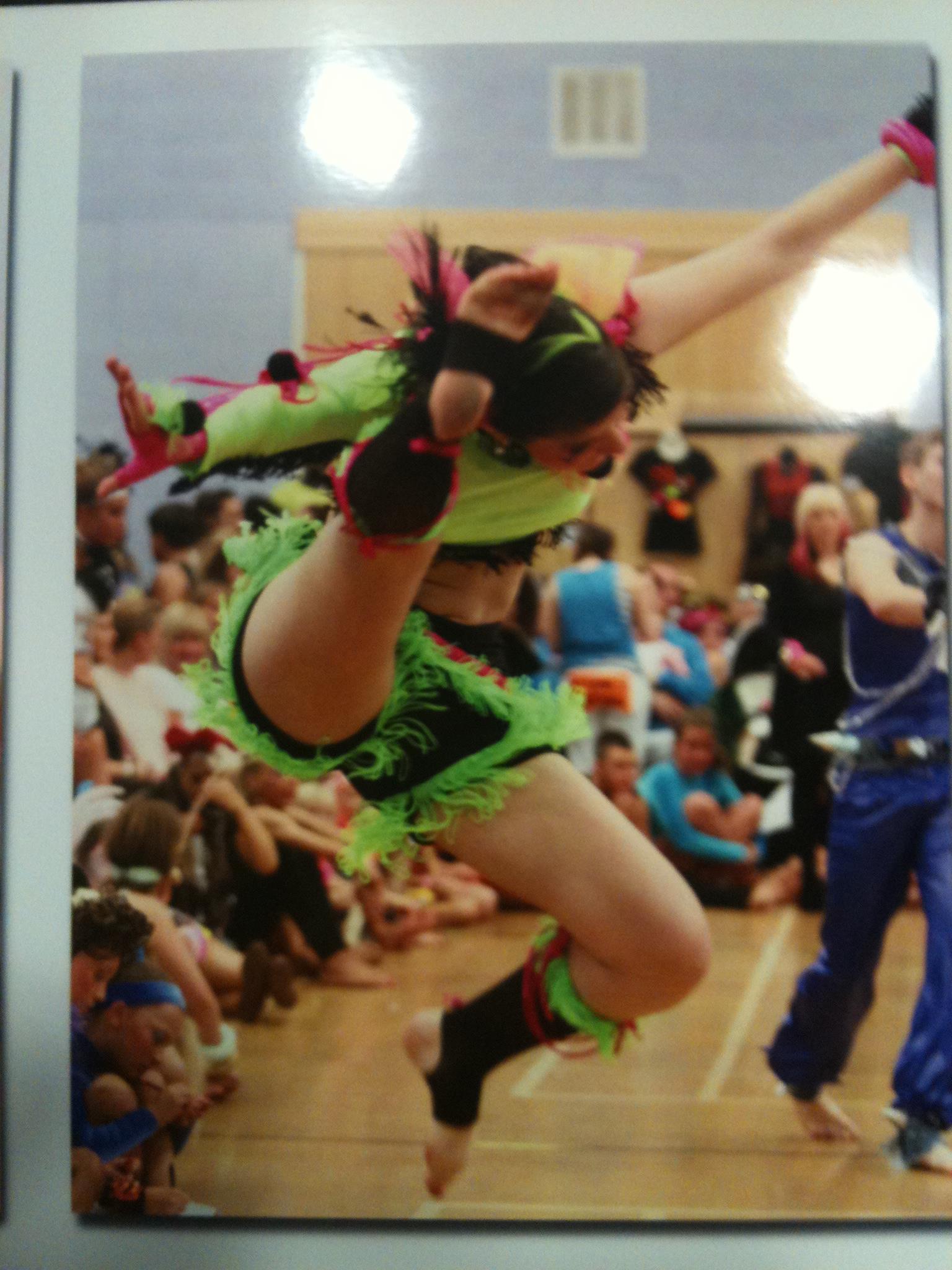 This newspaper article is relating to Farrah taking part in the Engage4life program over the summer of 2013 where she gained her National Citizenship Service (NCS) Award...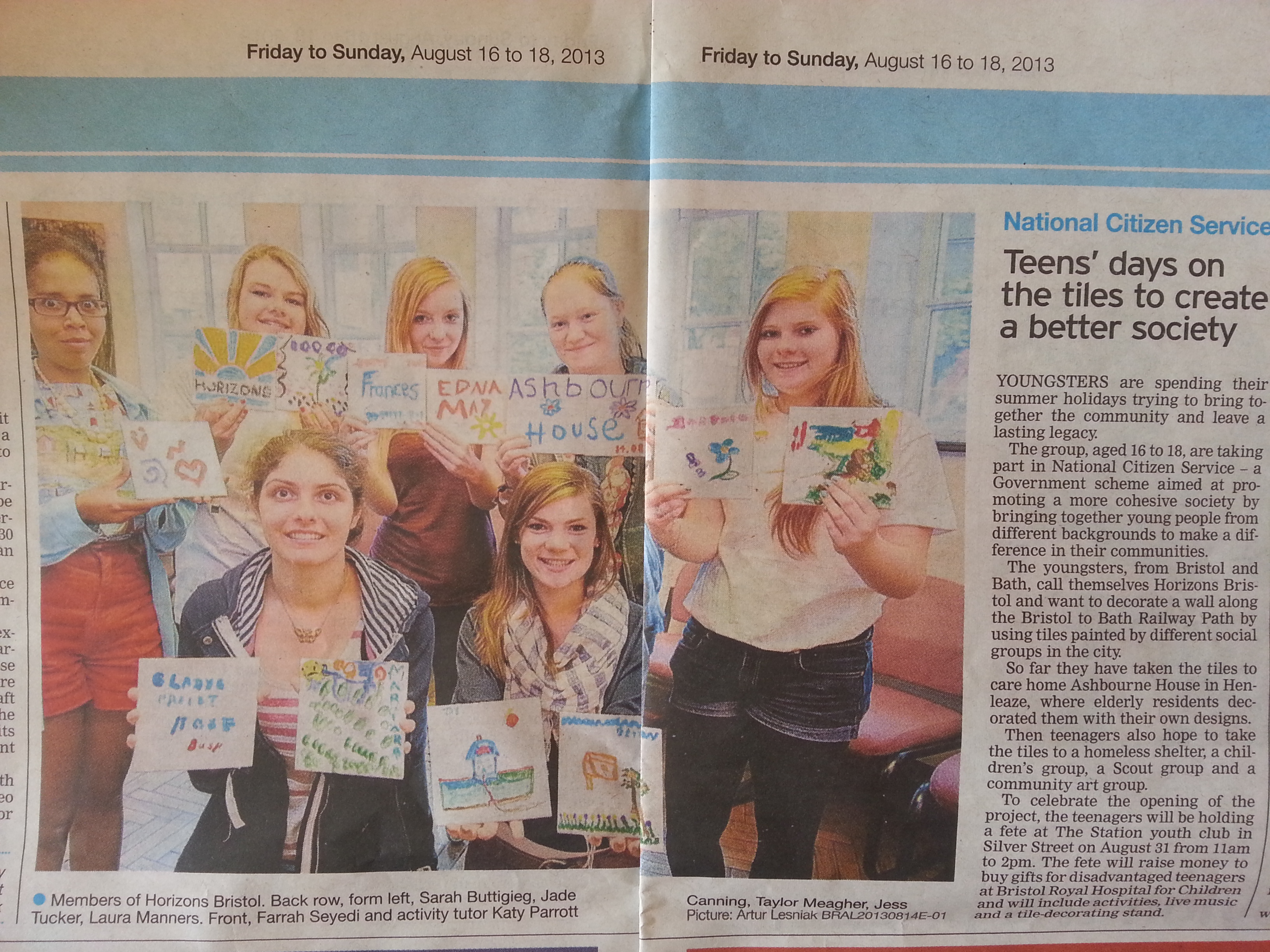 In the last four years my daughter has been attending a sixth form college of her choice as she wanted to attend mainstream education and I felt now she was able to choose, it was now my job to support her in her aspirations and hopes for her own future. I had been deciding what I believed to be best for her all her life so far and felt how amazing it was that she could now choose for herself. In 2013 she passed GCSE Maths with a grade C, OCR Level 2 ICT and English Functional Skills level 2. In 2014 she passed GCSE English with a grade C, AS Textiles & AS Photography. She is now completing her A levels by doing her A2 Textiles and Photography; she is exhibiting her work in Bristol between 16th - 31st October 2014 at The Station cafe, The Kitchen and you can read more about this HERE. Click to read more about her academic progress so far > Another article in Bristol Post in Summer 2013 commenting on Farrah's achievements and aspirations for the future...

When Farrah started college she signed up for everything in the first week!

One of the things she signed up for was the Duke of Edinburgh GOLD award. When she told me she had done this, I tried to explain that she couldn't possibly do it as she had not had the opportunity to complete the Bronze or Silver Awards and they come first. She promptly corrected me and said that she had checked at college and they did not offer either of these, only the Gold Award and she was allowed to try....

She completed her GOLD AWARD in the summer of 2013 by doing the expedition in the Forest of Dean! We attended St. James Palace on Monday 13th Ocober 2014 for her to receive her award from the Earl of Wessex, Prince Edward, to whom she spoke ... telling him she went straight for GOLD and what a great achievement this is for her!....

Farrah then attended Weston College to study a University of Arts Diploma in Textiles. She passed with Distinction! Whilst studying here for a year she was funded by our local council to attend Weston Bay, an amazing facility attached to Weston College where they teach students on the autism spectrum to live independantly. Farrah received two awards at the College's Achievement Awards Ceremony for 'Student of the Year' and 'Further Education Student of the Year' in 2015. YOu can see more about this on the College website HERE and HERE.
Farrah is now at University studying a BA(Hons) in Textile Practices

.
Farrah never stops surprising me with her aspirations, determination, perseverence and achievements and when I think back to those difficult, distressing days in the 1990s, I could never have imagined in a million years that she would achieve what she has to date and I would like you all to remember, as her specialist outreach teacher stated to the mainstream infants school at a annual review infront of approximately 20 attendees,
'WHERE THERE'S A WILL, THERE IS A WAY!'

No other words can say it better...never give up...never assume your child cannot do something...let them try...adapt things to help them try something and to achieve the next steps in their development...take each day at a time...when you have a particularly difficult day, start a fresh the next day...things can get better... and will!

At the end of one day in 2002, I was speaking to Farrah's Mainstream teacher in her solitary infant mainstream school classroom and said within Farrah's hearing, that she was not yet able to do something...she was non-verbal (age 6)...she could only say 'no!' and scream...she immediately proved me wrong by doing exactly what I had said she couldn't do yet!

So as I said...
NEVER ASSUME YOUR CHILD CAN NOT DO SOMETHING OR CAN NOT UNDERSTAND YOU!
NEVER TALK ABOUT THEM WHERE THEY MIGHT HEAR YOU AND TALK TO THEM AS IF THEY CAN UNDERSTAND...
CELEBRATE EACH STEP OF ACHIEVEMENT AND...
ONE DAY YOU WILL LOOK BACK AND SEE HOW MANY STEPS THEY HAVE CLIMBED AND
HOW THEY ALL ADD UP TO ONE BIG ACHIEVEMENT AND
SEE THEIR POTENTIAL FOR CLIMBING MORE!

and I must say... I know I have achieved what I have with my daughter and family because of my Faith in God. I am a Baha'i.
We Believe We are All One Family and everyone who has Faith in God, regardless of it's name or origin, Baha'is believe we all worshiping the one same God and those who do not believe in God or have any Religion or Faith, have the right to choose to believe that....

Other Influential People who Influence me and my way of working:

I have recently been introduced to the work of an amazing social worker and Family Therapist, Virginia Satir, through my NLP training. Her way of working and beliefs are so close to my understandings, aspirations and Faith and she inspires my work with myself, my family and clients with her gentle, person/family centred approach. She is one of the experts NLP is founded upon. Richard Bandler and John Grinder modelled Virginia's way of working to discover how she achieved the excellent results she did with the families and individuals she worked with and many of the strategies and techniques of NLP are structured models of her excellence. The more I read Virginia's work, the more I want to learn and use. One of her poems for inspiring Self Esteem seems a good place to start:
I am Me...

'I am me,
In all the world, there is no one exactly like me,
There are persons who have some parts like me,
but no one adds up exactly like me.
Therefore everything that comes out of me is authentically mine
because I alone chose it.
I own everything about me
My body - including everything it does;
My mind - including all its thoughts and ideas;
My eyes - including all the images they behold;
My feelings - whatever they may be ... anger, joy, frustration, love
disappointment, excitement
My mouth - and all the word that come out of it - polite,
sweet or rough, correct or incorrect;
My voice - loud or soft.
And all my acyions, whether they be to others or myself ...
I own me and therefore I can engineer me.
I am me and I am okay.'
(Virginia Satir, 1976: Making Contact).
I am now blessed to be enabling and empowering other children, parents, carers and adults living with autism and know they can reach their full potential too!...Here are some testimonials.