Assemblage Point Alignment & Healing Testimonial 
Hi Caroline, after the treatment you gave to me I just want to come back to you with my feedback. Excuse me for any mistakes due to my English. Before your treatment I wasn't feeling my self. Every  morning I was panic attacked that the day time wasn't enough for me. I had all my things to do in head blocking me and having the sense that I will not manage to do all of them.  I had fire on me. I was so stressed. I was getting upset and angry easily. I was so sensitive and cry very often. I believed that my self changed a lot. I never believed that any of these methods can help me. I am very religion person. I am Christian Orthodox. When You talked to me about this method I just trusted you . I knew you are my friend and you will do anything to help me and not to harm me. So I accepted to have your treatment.
You know from the next morning. When I woke up I felt I got back to my self again. I felt I was standing in my feet again. I was so relaxed, happy. My head was so light and not heavy like before. I felt that I can manage with my life. Even now after days of the treatment I still feel good. You did the same to my son and he feels good. And the other excited is that you did that to my husband IN DISTANCE. He changed a lot to the better. He is more calm and facing his heavy daily programme in calmness. I really like to thank you for that.  I wish we knew about it before and we should do it immediately.  I recommend it to my friends as well. Keep going Caroline, you are our PROFESSOR. I will call you from now on PROFESSOR. You are absolutely PERFECT. I admire you. Warm regards, V.
Assemblage Point & Sound Healing Testimonial from a mum of a 12 year old son with ASD & ADHD:
This 12 year old boy 'O,' took part in six- eight sessions of Sound Healing and he always left his sessions happy and wanting to know when he could come again. Below are some photos of 'O' after his more formal session on the treatment couch, playing the digeridoo during one of his sessions. After each session he would excitedly interact with me and mum with the many other sound healing instruments such as the Hapi Omni Drum, the American Indian Flute, Bells and singing bowls and many more... He was excited to hear that he was learning another language - 'sound language!'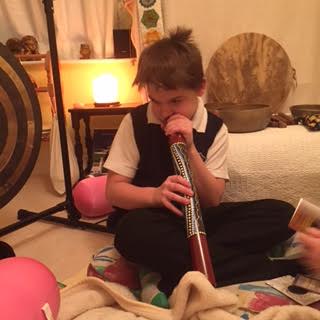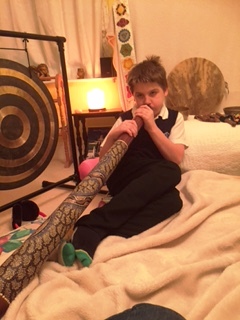 'O' also shared some Sound Healing sessions with mum where he learned how to sound on mum's body and sing her name to her for healing. When parents join in with they child's session it can be a very profound and positive experience for both the child and the parent and can support a 'magical' reconnection between them in a safe space away from the stress and strains of everyday life and its challenges. The calming effects can have an underlying lasting effect emotionally, physically and spiritually.
Mum and 'O' also received Assemblage Point Alignment & Healing  and this enhances all other healing treatments because it realigns all your body's energy system, including the chakras which means that any other types of healing, even, 'conventional' healing has a strong and balanced physical, emotional and spiritual foundation from which to work.
 Here is some feedback from mum about her son's session and her joint sound healing experience:
'Hi Caroline, here are some photos of 'O's' session, which he really enjoyed. The session had a really positive effect on him in the form that he slept through the night, seemed calmer around food/dinner table, engaged in playing with toys (doll figures). We also noticed he engaged in current conversations which didn't last long but is a definite plus! 'O' said "It makes me less fuzzy, like when I'm under water." Which is his favourite place because it makes him really calm.'
'Our joint sound healing was really nice as it was something we could do together and 'O' said it made him feel safe. I enjoyed sharing with him and him sounding and singing my name over me was very calming and it felt like we reconnected on some level!'
'Sound Healing has been really amazing and the changes it has created have been very noticeable. I personally, have bitten my nails all my life but after two sessions of sound healin, I stopped and several months later they are still growing! Day to day stresses don't seem so stressful any longer, I sleep better and for this reason, I took my non-sleeping ASD son to Caroline for this reason, who really benefitted after every sound healing session session. He slept through the night. Several months later, his sleeping is much improved as is his general mood, he is much calmer. Thank you Caroline.' 
NLP, Coaching & Mentoring Testimonial from parents of an adult with ASD, Learning Disability & Generalised Anxiety Disorder
Our son has Learning Disability/Generalised Anxiety Disorder.
He has been seeing a Consultant Psychiatrist over many years who has been treating him with medication. Recently as parents we felt there should be another way to help our son who had become quite reclusive and depressed. Medication seemed to be keeping him in a zombie state. We decided to approach a qualified Life Coach/Mentor. We found Caroline Seyedi in 2015 and arranged for her to start seeing our son on weekly sessions one to one.  He lives in a supported living house run by a charity. His carers were  informed of this arrangement and are included in these sessions.
We have seen such a remarkable improvement in our son over these last six months, he looks forward to Caroline's weekly visits. She has been able to unlock some of his fears which now enables him to feel more confident with everyday life. This different approach as an alternative to medication is helping our son learn who he is and more about himself.
We as a family are finding Caroline's work with our son so beneficial as we are exploring our feelings which is making our lives better.
Thank you Caroline.
NLP testimonial from 'Moon' (An amazing woman diagnosed with autism and 'selective' mutism) UK
'Caroline's deep understanding of autism and the NLP techniques she uses to coach me make a massive difference to the way I cope with my condition'
'...I was depressed having to move house, have not much work and other things that I couldn't understand and fighting to communicate with my few words just pushed-down on me and I was picturing this as being a rubbish year (again)....but somehow you have flipped it upside down... in the short time I have trained with you I have a completely different way of seeing myself and how from being a baby-to-now follows a path which I have (some) control over.....now I look a bit happier, people have been approaching me to ask what its like to be mute... I have even been asked by some of the gymnast's mums and dads to show them how to juggle.....but the talking usually ends up on autism....and how "I" sense and see things.....I'm surprised just how many people it effects.....and how little people understand about it.......Anyway im just trying to say thank you in a different way for helping me understand things in a way I never believed possible... you help me put Moon-world into a pattern and order "I" can understand.....of course I will never be non-autistic but perhaps thats ok after all...'
Moon is a wonderful lady with an amazing life story to write; she has a great sense of humour and is calming to be around. When she writes her life story, she will truly inspire parents and adults with autism to know you really can achieve your dreams!
The word 'selective' in the title of this testimonial is there because Moon wants others to know that she does not 'select' when to be mute and when to talk, it is a mental and physical challenge she faces constantly...
After spending only a few hours with me, Moon was able to verbally communicate a couple of words, 'Thank You; Train; Family' and she started to refer to herself as 'I' when previously she was referring to herself by her name, in the third person. After her 3 hour NLP Life Coaching, Hypnosis and Intervention session with me, she managed three sentences before leaving Bristol to return home...It was an amazing 2 days for us both and we are both looking forward to spending more time together to enable and empower her to positively move forward in her life and ofcourse to write and publish her book!...ü
Workshop: 'Understanding & Supporting People with ASD using NLP - Feedback from MINDLINE volunteers and staff (a phone support service for the charity MIND):
'I am writing to you to express my heartfelt thanks for giving your talk on March 30th. We have had so many positive comments about the talk and your engaging presentation style. I know our volunteers all found the session extremely useful in enriching their own work with callers and maybe also in their own relationships and dealings with other people who are on the autistic spectrum.' 
'An excellent and very informative presentation of understanding autism using the Neuro-Linguistic Programming model.'
 Sandra from Bristol, UK
'I have known Caroline since my son started at a specialist autistic unit where her lovely daughter also attended.
From the moment we met she started supporting us with wonderful advice on achieving the best for our son throughout his secondary education.
It was friendly straightforward advice that we took on board & have benefitted from ever since.
Caroline made me realise one main thing that I had neglected to remember since my son had been diagnosed! Be willing to try anything to support your child but always know that you as parents know best.
It wasn't until Caroline showed me that that I knew that I would have to be my sons driving force to show him that he had a place in society.
Caroline has achieved so much whilst supporting her daughter but at the base of her foundation she is a mother wanting only the best for both her children.
I am sure she will go on to help many more like us as she is totally committed to show children & adults with autism do have a place in our society & I wish her well.'
                                                         ***
Hairdressing for a highly hypersensitive autistic little boy
Caroline first came to us over 4 years ago when our son J had refused haircuts for two years. His hair had gone beyond shoulder length and was down to his upper back. The combination of the sensory experience of itchy loose hair, a stranger touching the personal space of your head as well as self consciousness and anxiety around his appearance had built a solid haircut wall in our son's mind.
Caroline has been calm, understanding, positive and patient at all times. She sent us a photo so we could prepare our son for her coming. Initially she just cut my hair and J's siblings. J would have a look and see Caroline and hear her voice, but no hair cut. The next visit J agreed to have a haircut. J is always asked how much he wants taking off, and Caroline always follows J's instruction and has gained his trust. At first J would stand and Caroline could only take half a centimetre off! Over the first year of her cutting our son's hair, less hair was cut off than had grown since the last haircut so his hair kept getting longer! J gradually built up a relationship with Caroline, sits in the chair and little by little over more than two years he has a smart medium short boy's haircut.
Caroline does great haircuts and has taught us how our autistic child can overcome challenges.
Thank you!
W family Bristol
                                                         ***
Catherine from Leeds UK
 'Caroline has been such a great help to us, we had become very despondent with the help we were getting from our local authorities and had been told by a rather abrupt mental heath councillor that our 6 year old daughter was angry and attention seeking (which she is not any of these) and her repetitive speech and movements were what every child does !!  Sitting and rocking for twenty minutes is not normal behaviour. With Caroline's encouragement I was determined to carry on with trying to get help for my daughter who now has been referred by a new GP to a child psychologist as she thinks it is also very obvious she has High Functioning Autism -Aspergers.
Thank you Caroline, we are very grateful.'
                                                         ***
'The Stay and Play sessions are a fantastic idea.  There are brilliant sensory resources to play with and recommended books/resources for adults to browse through.  The informal atmosphere makes it easy to gather information and it is reassuring to meet other carers who understand what you are going through.  Caroline is very friendly, welcoming and easy to talk to. Her combination of knowledge and experience mean that she has loads of great ideas to help with any difficulties we are experiencing.  Her ideas are easy to follow and practical so I can go home and put them into practise without disrupting the whole family.  As a result, our ASD child is coping far better with transitions and following instructions and is therefore calmer and happier.'
                                                        ***
Harriet Piercy North London,UK
'I would like to take this opportunity to Thank Caroline and her Website for helping us and our Son.
I found Caroline on Linkedin, when we were in desperate need of support regarding our Son whom is awaiting a diagnosis of ASD. The advice and support we received was unmeasurable. She made us aware, via her website of useful information we were otherwise unaware of, and it has made a huge difference to our lives.
We are truly grateful and would recommend Caroline to anyone in need of support.'

                                                        ***

                                                       
'Caroline combined her personal experiences and extensive training to deliver an excellent workshop. We all came away with a greater understanding of how a child with autism sees the world and with practical advice on how to support them and their parents. We intend booking a follow up session as our volunteers would like to know more!' Beverley Symonds Senior Co-ordinator Home-Start Bristol...
'All of the session was good especially at first putting us in the autistic child's place'
'An amazing training and I would happily have stayed all day to learn more!'
'More time required'
'Worked well, lots of good information'
'Good presentation'
'Caroline was extremely knowledgable'
                                                        ***
Paula from Bristol (NLP)
'I had 2 NLP sessions with Caroline Seyedi in Bristol and found them very helpful in terms of time management and self-regulation. As a parent-carer who also works part-time, these two skills are absolutely essential if you want to continue caring for your loved one and still achieve your own personal goals without getting a burnout. We all know how easy it is to lose balance. With only two sessions I was back on track! So, if you're thinking about giving NLP a try, I'd definitely say "go for it!"'
                                                       ***
Clementine from Bristol
'Caroline has been a great support to me. My daughter is now 19 yrs old and didn't get her ASD diagnosis until she was 16. Caroline has helped me with practical advice in dealing with school and college, ideas for inclusion out of school with clubs etc. and also how to look after me during the stressful times.'