A Natural & Holistic Package for the Whole Family

Preparation for Pre-schoolers, Consistency for School-aged Children, Preparing for Adulthood & Employment
My approach is holistic,
positive,
forward thinking,
family & person-centred,
individualised,
naturalistic
and very unique,
using evidence-based Education Models such as TEACCH, PECS & Makaton,
Mindfulness & Meditation
NLP Coaching, Interventions & Ericksonian Hypnosis & Trance
Energy & Vibrational Healing Therapies
Personalised Bach Flower Remedies & Essences
Unique Personalised Autism - AS IT IS Vibrational Remedies & Essences
and much, much more especially designed in harmony with YOU in mind...
I use all my knowledge, experience, skills and training from Education, Coaching, Mentoring, Advocating and integrate other therapeutic healing therapies and interventions to create a personalised holistic plan for the whole family which is natural and fits in with each individual family's lifestyle.
When you employ me, I can support all your family members and enable you to explore your options, see the possibilities and make informed and well designed decisions and outcomes to transform your life from coping to living with autism to the full potential of each member of your family!
This creates a powerful team which knows and understands their family's strengths and which can support each other to create an aspiring and happy environment where nurturing and growth can flourish.
In 1998 when my daughter, Farrah, was diagnosed with autism, I studied all the therapies and interventions of that time such as LOVAAS and the Sonrise program and my husband and I attended the Hanen Program 'It Takes two to talk' which was written for parents of children with communication delay by Ayala Mandelson. The NAS had not created their 'Early Bird programs' at that time, in fact, the NAS based their Early Bird Program on the Hanaen Program, I was informed at some point later.
I visited a friend to watch their child participate in a LOVAAS session and came away knowing that, at that time, it wasn't for my family but decided I could use the techniques in our everyday living.
Over the years I was using the principals, strategies and techniques I had learnt from everything I had studied about therapies and intervention for autism and they very soon became part of our everyday way of communicating with our daughter, Farrah, naturally. She attended a nursery where she learned Makaton signing and I learned to use it by attending the nursery on the days I was required to as a parent (once a fortnight). My son (two years older than Farrah) and husband learnt it from me and we all used it at home with Farrah.
I also 'signed up' to Bernard Rimland's newsletters and received them by post from the USA back then (when the internet was not available to us!) and used to share the information with other parents we had met on the Hanen Program and at the local NAS. We had made some really good friends and we still are friends. In fact one of our friend's son is at university now studying Law. I have also used nutritional supplements (Vitamin Therapy) under the supervision of our GP, music therapy and sensory integration therapy (SIT) amongst others which I felt would benefit Farrah and not do her any harm.
My motto was and still is,
'if you're sure it won't do any harm but could be the difference that makes a positive difference then go for it!'
A few years ago in preparation for starting my MA Autism, I read Professor Patricia Howlin's Book 'Children with Autism and Asperger Syndrome: A guide for Practitioners and Carers' and whilst I read it, I kept reading paragraphs to my husband in amazement as her review of the research for the treatments, interventions and therapies in it almost mirrors how we chose to intervene with our daughter and follows the nurturing guidelines of our general parenting style for both our children. My son is not on the spectrum.
In her book, discussing one of her studies with Rutter in 1987 and one by Koegel et al., 1996 she writes,

'Koegel and his colleagues (1996) studied two groups of parents in home-based interventions. In one group the emphasis was on the training of specific skills, using traditional reinforcement procedures; in the other the focus was on the development of greater motivation and responsively to multiple cues, using naturally occurring rein-forcers. Parents in the latter group rated themselves as being happier, experiencing less stress and as having more positive interactions with their child following treatment. There was also greater generalisation to other aspects of family life. In the home-based study of Howlin and Rutter (1987a) the focus was also on a wide range of skills and behaviours; naturalistic reinforcers were used as far as possible and the aim was to improve the aim of consistency of parental approaches to their child, rather than imposing more stringent behavioural programmes. Again, as compared with control families, these parents rated themselves as being significantly more favourable towards therapy. Parents in the treatment group recorded fewer behavioural problems both in and outside the home, following the eighteen months of intervention (Figure 10.1) [there is a graph on the page]. Few felt that demands on their time or on family life generally, had been excessive and they did not perceive intervention as unduly intrusive (Figure 10.2) [another graph]. They also reported more positive changes in their children's behaviour.' (p.284)

Professor Howlin goes on to say that 'over a longer term follow up period, after 18 months, although parents in the treatment group felt more competent in coping with their child's problems they didn't perceive their child's progress as significant as the independent observational data actually indicated and she suggests that parents may need to maintain contact with the therapist to help generalise treatment approaches to newly developed behavioural problems and to maintain views of their own competence at a high level' (p.285).
Had I read Professor Howlin's book back in 1998, after my daughter was diagnosed, and followed its guidance, my daughter could quite easily have made the same progress as she has today!
This is the approach we used with Farrah, using natural rein-forcers and motivators in our everyday lives as and when the opportunities arose. We created a structured picture calendar and had a visual daily timetable and reward chart. As I have mentioned above, we did use Makaton and specialist therapies as well, such as music therapy, sensory integration therapy, homeopathy and nutritional supplements under the supervision of our GP. Farrah also attended a specialist autism education resource unit at age 6 which was incorporated into a mainstream school and where I feel she had the best of both worlds - specialist teachers who understood her autism challenges and behaviours and could teach her how to sit and work independently and enable otherchildren to work in the same environment as well as give her opportunities to be included with 'mainstream' peers in the play ground and classroom when she was able to and it was 'appropriate.'
The more coping strategies she learned to deal with her autism and the affects it had on her learning, social interactiing and communicating, the more able she became to learn and less disruptiveshe was for others in a 'social environment.'
You can learn academics at any age and social interaction and communication skills, life and self help skills are the building blocks for education not optional side salads.
If you focus on helping the child learn coping strategies for the autism related challenges they experience, reduce behaviours by working on developing communication, social interaction, play and overwhelming sensory issues first, then you can start to teach the academics and it has to be in a way they understand and can access!
As with many things in life, there is no 'one size fits all!'
Farrah is proving this point now at age 19 she has achieved:
Functional Skills Levels 1 in Maths and Levels 1 & 2 in English;
GCSE grade C in English & Maths;
BTEC level 1 and OCR Level 2 in ICT;
A Level Photography and Textiles...
University of Arts London (UAL) Foundation Diploma in Textiles (with Distinction)
..and is now at the Plymouth College of Art University studying a BA(Hons) in Textile Practices.
Farrah has achieved and received her Duke of Edinburgh GOLD award from the Earl of Wessex (Prince Edward) at St. James Palace, London which took part in the 'Throne Room' in October 2014 -A Magical Experience for her!
And she also graduated in a National Citizenships Award with Engage4Life in 2013...More recently she has won 2 awards from Weston College, 'Weston Bay Student of the Year 2016' and 'Further Education Student of the Year 2016.'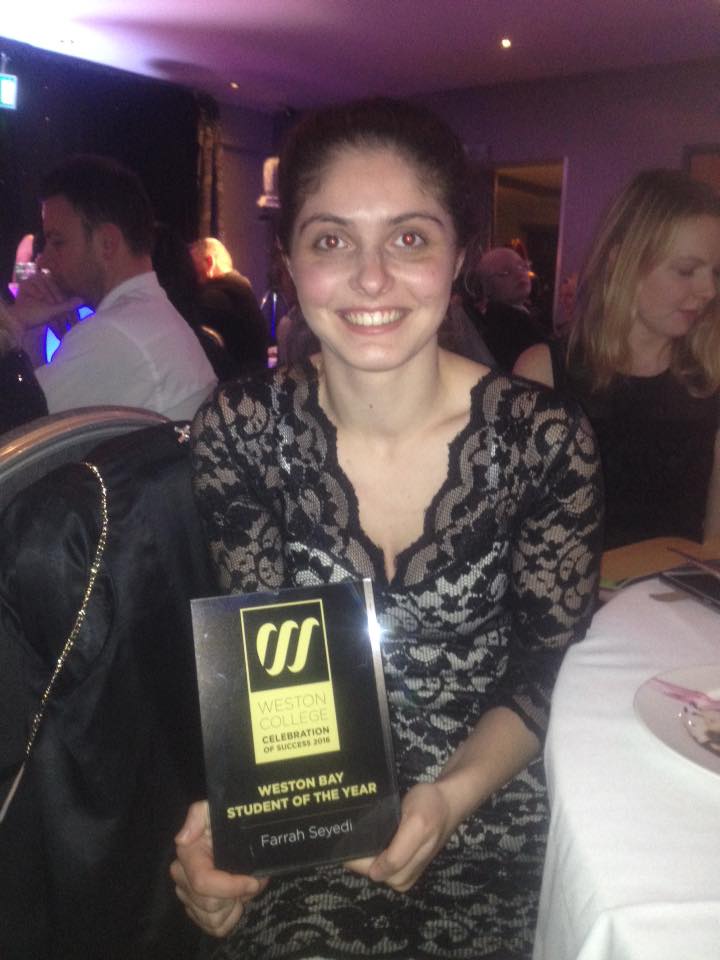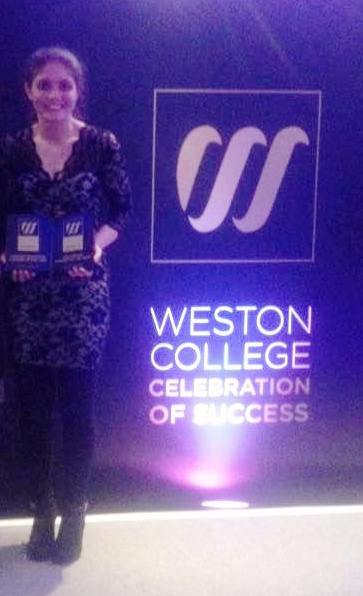 I sincerely hope this inspires you to believe that you can achieve the best you can be and help your child be the best they can be and enable them to reach their full potential when using a personalised, person and family-centred approach in the natural environment and a lot of hard work, advocacy and determination.
Other Research which is the basis for and underpins my approach with my clients:
Reed & Osborne (2012b) found that the improvements made with using ABA were mostly in educational functioning and it was the more severely affected children with autism who made the most improvement with ABA but these were not in the core-autism deficits.
They found the longer time spent doing ABA, fewer improvements were made.
When comparing ABA with three other interventions: a specialist nursery school, a local authority intervention delivered by an Educational Psychologist and Portage, these showed more improvements in the core-autism deficits; intellectual and adaptive behavioural functioning; and the longer these three interventions were done the more improvements were made; especially at the specialist nursery school placement.
Osborne and Reed summarise by saying that despite ABA generally demonstrating the most gains (remember mostly educational and with the more severely affected children), care should be taken in choosing this approach as a matter of course because a specialist nursery may be an equally beneficial and suitable placement/intervention for some children...

Farrah also went horse riding for a while, until she got tired of it and upset because I couldn't be with her all the time due to being allergic to the environment! I started to wonder what I was gaining with her becoming upset at each session and me sneezing repetitively and my eyes streaming for hours as if I had flu! So we stopped that one!
I cannot stress enough that with all the therapies I implemented for Farrah, I always fully participated, staying with her and watching, asking questions and learning what was happening so I could continue the therapies' principals and practices at home. This enabled the therapeutic learning to be integrated into her everyday environment and activities...
...This is really important because a child needs repetitive and consistent learnings for them to create new neural pathways.
My husband learnt them from me but the most important therapist in some ways was my son, two years older, her adored his sister and he was as keen to help her as we were and would often come running to tell me she had just done something new or achieved a goal that we had been working towards when the pair of them had been in a different room to me and I hadn't witnessed it!
There is a lot more I could write here but my main aim here is to let parents know that you do not have to spend an intensive 40 hour week using one behavioural approach to help your child with autism...and...
... there is no 'one size fits all intervention;
no easy solution;
no one way to reach one the destination.
A positive, personalised and holistic approach is a more balanced, natural and capable way to reach a well-formed positive and successful outcome and I am extensively qualified, experienced and professionally insured to Educate, Coach, Mentor, Advocate and Support you in achieving this and to take special care of yourself!...
...it is a researched evidence-based, peer-reviewed fact that parents of children with autism suffer with more chronic diseases and long term mental illnesses that any other parent with a child with any other chronic disability so...
...you must look after yourself to support, nurture and be there for your children! And...
that means resting, pampering loving yourself enough to say 'No!' when you know you are pushing yourself to exhaustion!...and
...those of you who are reading all this and asking yourselves, is it too late for me/my child/ my adolescent/my adult whom I care for.... the answer is NO!
It is never too late to change to be the best you can be, work towards your aspirations,reach your full potential and live happily!
You need to want it enough and the will to do it and we can find all your options together, explore what it is you really want to achieve in life and discover what you need to do to achieve it and then you can take action and that first step forward to bring you closer to it!...
I truly believe this is possible and when you choose to believe this too, this is the first important step towards transforming your life in to what you want instead of what you have now!...
I have a Masters of Arts research degree in Autism;
I am an internationally accredited Master Practitioner in the Art and Science of Neuro-Linguistic Programming;
trained as a Mentor and registered with the Mentoring Institute of Enterprise and Entrepreneurs
and I have experience and have completed training in PECS, TEACCH, Makaton, Portage, Intensive Interaction and many others.
I can enable you to learn the skills and strategies you need to encourage and support your interaction with your loved one in their world of autism and
facilitate you to encourage them to engage in yours using
The 'Portage' model,
Natural Environment Applied Behaviour Analysis (ABA),
Pivotol Response
Relaxation techniques,
Nutritional Supplements and Diet
Mindfulness,
Meditation,
Neuro-Linguistic Programming (NLP) Coaching & Hypnosis,
Energy Healing (using Reiki, Crystal & Sound)
Assemblage Point Alignment Therapy
Autism Spectrum Holistic Well Being Advisor
I have other extensive training which you can read or scan over by clicking here.
Some of these strategies and techniques are used in special education environments and therefore my work with you will support consistency of intervention, behaviour management, social interaction and communication development across the home and school environments which, as mentioned above, is essential for your child's learning, well being, behaviour, future prognosis and will speed up progress towards your desired outcomes for them and your whole family.
I am also a trained as an 'In Harmony With You' (IHWY) Well Being Advisor.
It is really important to clear as many toxins from our bodies and our environment to obtain optimum health and well being if we want to achieve being the best we can be physically, emotionally and spiritually!
Our skin is our biggest organ and everything we are exposed to is absorbed into it and reaches and affects ALL our internal organs and our brains and this means we need to be environmentally conscious of what we put on it as well as what we put in our bodies through our mouth and nose!
As an IHWY Well Being Advisor, I can offer you advice on using Weleda Skin and Body care products, medicines and homeopathic medicines and remedies and make referrals for you to a qualified Weleda Pharmacist & Homeopath to ensure you get the best advisce on more complicated well being issues...
Weleda Products & Medicines are 100% Natural and Biodynamic which means no toxic chemicals, no parabens, plastics or nasty stuff to harm us or our environment and all the ingredients are ethically grown and harvested!
The skin care products are amazing, some are preserved with essential oils, others are perfume free and there is something for all skin conditions, the toothpastes taste great, there are soothing sensitive baby care products and soon there will be makeup for you to choose, created, packaged and delivered with the same ethos!
I have been using Weleda homeopathy & medicines for years through my GP and have completed the Weleda Well Being Advisor's Medicines training to enable me to give you advice and when needed, a referal to our specialist pharmacy, as mentioned above.
You can order Weleda products from my on-line shop, get in touch with me to hold an event (we can arrange Virtual Events too!); you can have a one-one facial and try before you buy the products and receive FREE products as a thank you AND I have an on-line shop where you can sign up for your own personal account to order and have the products delivered to your door and here you can download information about the current special offers...
It's never been more easy to choose and order award winning, 100% Natural Skin Care, Baby Care and Health care products, get advice about them and have them delivered direct to you!...
...I have a FB page where all the latest offers are posted which you can see HERE...AND...you can Click HERE to link to my 'In Harmony With You' Well Being Shop where you can order and buy these products direct and contact me to ask any advice you need!

I can also work with teachers in Mainstream Schools and Academies to teach and empower them to use the techniques we implement at home into the classroom environment. This will have a positive affect on the whole class and ultimately the school! Personal Budgets can help finance this.
If you are an adult in a learning or employment environment, I can work with your teachers or employers to implement the coping strategies and systems you need in place to fulfill your full potential and reveal your valuable skills and attributes to the learning and work community to which you belong.
I use the principles and beliefs of NLP in my everyday life and with my family and experience attracting more opportunities than I knew were possible and achieving all the positive outcomes I desire.
Somethings to consider:
How do you see yourself tomorrow?
Next week? Next month? Next Year?
What do you hear yourself saying?
How are you saying this to yourself?
How does what you are telling yourself positively affect the action you take?
Do you feel alone or part of a developing global family of families who are really learning to live life with autism to the full?
How much does your self-esteem and self-belief affect your ability to achieve what you really want?
Are you feeling helpless and lethargic or empowered and motivated to achieve being the best you can be?
How much will exploring and discovering your true potential, feeling confident and congruent; having control over your emotional states transform yours and your family's destiny in this life?
Maybe you are answering, 'I don't know!'... but what if you did know?...What if you explore beyond your limiting beliefs?... How will you ever know if all you ever do is wonder?
What would you do if you were not afraid of failure? What if there is No failure ONLY Feedback for you to learn from and choose what actions you can take action to move forward?
Where could you be next week? Next Year? In 5 years? In 10 years from now if you decide to treat the obstacles in your life as challenges which are there to enable you to learn new skills so you can achieve your desired Outcomes & Destiny?
Read more about NLP Life Coaching & Hypnosis & How I can empower you to achieve your aspired future HERE.
As mentioned above, I am also an accredited Meditation Teacher, Reiki & Crystal Healing Practitioner, a Bach Flower Remedy Practitioner and *currently studying Sound Healing and integrate these into my work with you where appropriate.
*(2016)
For more details of my experience and qualifications please click here.
Prof. Patricia Howlin's book (UK)
Prof. Patricia Howlin's book (USA)
1. HOWLIN, P. 1998. Children with Autism & Asperger Syndrome: A Guide for Practitioners & Carers. Chichester: Wiley, pp282-284.
2. REED, P. OSBORNE, L.2012b.Impact of Severity of autism and intervention time-input on child out-comes: comparison across several early interventions. British Journal of Special Education, 39 (3).pp.130-136